Spring Pins Roll Pins Dowel Pins Mills Pins Clevis Pins
Spring Pins Roll Pins Dowel Pins Mills Pins Clevis Pins
Spring Pins Roll Pins Dowel Pins Mills Pins Clevis Pins
These spring pins roll pins feature hollow cylinders slit longitudinally permitting compression during insertion. Designed to replace Taper pins, straight pins, and set screws, they will also serve as a rivet, dowel, hinge pin or cotter pin in many applications. Made of 1070 carbon spring steel hardened to Rockwell 45-50, tempered and oiled, They can be doubled up for heavy duty applications.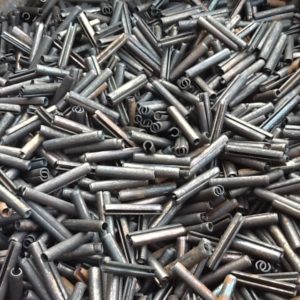 Removal Of Roll Pins Spring Pins
In the easiest of all extractions there will be two ends of the roll pin exposed. In these cases, a small diameter drift pin punch can be employed. The diameter of the drift punch must be smaller than the hole in which the roll pin is placed. Caution must be exercised so as not to flatten the end of the roll pins as it is extracted. By using a small, ball-peen hammer and striking with short strokes, most roll pins can be pushed from the placement using a drift pin punch.
Insertion Align the spring pin/roll pin with the appropriately sized drilled hole. Tap the end of the pin extending beyond the jaws of the pliers with a ball-peen hammer. Release your grip with the needle-nose pliers when the spring pin sits tightly in the hole.
Set the tapered end of the spring pin set on the end of the spring pin. Hit the flat end of the spring pin set with the ball-peen hammer to drive the spring pin flush with the top surface of the drilled material.
It is recommended that the pins should consist of a harder material than the components to avoid deformation when the pin is inserted or removed. Due to the difference in hardness, seizing in the hole can be avoided. In order to prevent the risk of scuffing and excessive wear, it is preferable to use a bolt material which is harder and stronger than the material of the components
For more information on any of our products please contact info@britishpipeclamps.co.uk
We also stock Clevis pins ranging from 6mm upto 12mm all zinc plated sold, in packs of two, we do offer a discount on bulk orders, this site is updated on a daily basis.
Showing 1–16 of 88 results