Double Pipe Clamps
Double Pipe Clamps
Double pipe clamps manufactured from 316L grade stainless steel, aluminium, brass and copper. BPC Engineering offer a selection of quality British made two port pipe/tube clamps.
We can custom make these pipe clamp brackets to your specifications, for more information please contact us
Payments & Order Information
When making a purchase from this website simply select the item you want, check the quantity then click the add to cart button. Proceed to the checkout where you will be given three options on how to pay . Direct bank transfer, payment by cheque or payment via PayPal. Please make sure the delivery address is correct to enable us to process your order smoothly. A receipt of payment will be sent with your goods.
Worldwide Postage
All items are dispatched within one working day. Free post UK. People outside of the UK please contact us for shipping details to your country before you place your order.
Refunds & Returns
If you are not entirely satisfied with your purchase simply send the product/products back and I will issue you a full refund. (buyer pays return postage costs).
---
BPC Engineering
Manufacturers of non-ferrous metal brackets & pipe support clamps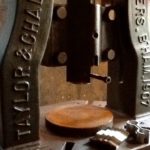 Although we specialise in manufacturing stainless steel aluminium and copper pipe clamps. BPC Engineering offer a subcontract presswork service for small batch production. Small parts press work drilling tapping and assembly. We can work with client press tooling or we can design and build tooling to your specifications to produce the components you require. We have a upto date workshop fully equipped with tooling and 8 – 10 tonne pressure presses.You can view our products in the BPC SHOP.

Showing all 10 results