Double Pipe Clamps
Double Pipe Clamps
Double pipe clamps
BPC Engineering offer a selection of quality British made two port pipe/tube clamps. For 12.5mm – 32mm diameter pipes & cables complete with stainless steel fixings.
we keep large stocks of these popular clamps on the shelf ready for immediate dispatch. We ship worldwide next day dispatch.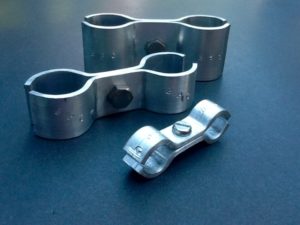 The 30mm clamps are ideal for the installation of cables on electrical cable ladders, they will space the 30mm diameter cables at 30mm apart.
The 15mm double port clamps are ideal for plumbing, these clamps will space the pipes at 20mm apart. Stop vibration and movement. If you need more information on these pipe/cable clamps please contact us 
Thank you for taking the time to visit my website if you do not see what your looking for please contact me as I my be able to help you. If you require a custom  made pipe clamp send your diagram to us and we will get back to you.

Showing all 10 results