Scaffold Tube Bracket Mounting Clamps CCTV Camera Security Lights
Scaffold Tube Bracket Mounting Clamps CCTV Camera Security Lights
Scaffold tube bracket mounting clamps made from stainless steel. These clamp brackets will allow you to install floodlights cameras and signage and mounting plates anywhere on a scaffold construction.
The clamps are split two piece making them ideal for mounting to existing poles already erected. Made from 316L grade stainless steel with stainless M8 (8mm) diameter bolts with nyloc shake proof nuts. 316L is marine grade stainless rust proof.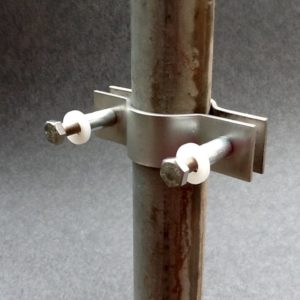 Pole mounted brackets designed to fit standard scaffold poles. The two stainless steel bolts secure this versatile bracket, hence speedy secure fixing.
316L Stainless Steel
All of our scaffold clamp bracket are made from 316L grade stainless steel. This is the best type of metal for this type of application. Completely reusable and rust proof with rust proof fixings. We also stock various attachments for these clamps and we can also custom make attachments too.
Contact Us
form more information on these scaffolding pole bracket clamps or if you require a special type of bracket please contact us. For more clamps and brackets please visit our online store.
Showing all 3 results