Pipe Support Clamps cable tray cable clamps Multi Inline Tube Clamps
Pipe Support Clamps cable tray cable clamps Multi Inline Tube Clamps
Pipe Support Clamps & Cable Conduit Fixing Brackets for all industries.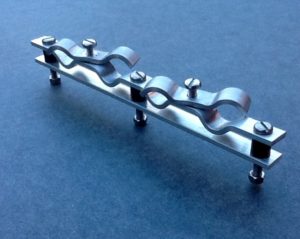 Pipe support clamps cable tray cable clamps Multi Inline Tube Clamps offers the means of securing many cable, fluid line and pipes in place even if they have different diameters. The advantage of using reusable split clamps allows you to install the cables pipes & conduits neatly and they can also be disassembled quickly to facilitate replacing one or more lines. These cable conduit support clamp brackets are totally reusable and shake proof, available from 15mm port diameter upto 25mm.
Pipe Support Clamps Multi Pipe Clamps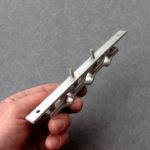 The two 5mm threaded screws at the back of the clamp have been left at length(10-12mm protruding). See below sizes for tolerance. All of the multi pipe clamps will have these as standard. This will allow the clamps to be fitted to a metal surface such as machinery panels or metal casements. (Nyloc nuts will be included for this ) They can be cut off level with the backing plate for wall mounting. The two holes at each end of the backing plate are for wall fixings. All multi tube clamp range will arrive like this.
Tube Clamps Port Size
The measurements below will give you an idea of how much tolerance these pipe clamps have. The thread length from backing plate is 10-12mm, this will obviously decrease as you install the pipe/tubes.
The 15mm adjustable upto 19mm diameter Pipe Support Clamps in fully closed state is approximately 13mm.
The 19mm adjustable upto 22mm diameter multi pipe clamps in fully closed state is approximately 16mm.
cable tray cable clamps Multi Inline Tube Clamps Spacers
Multi pipe clamp spacers are available on request. These will allow you to raise the multi clamp ports slightly to avoid any obstacles. They are available in many different lengths. All of our multi pipe clamps and tube clamps have stainless steel fixings with shake proof nyloc nuts. Please contact us if you need more information on any of our products. Contact Us
Postage
All orders received will be dispatched by Royal Mail free post uk. If you are paying by cheque I will allow time for the cheque to clear before I dispatch the order. Thank you for taking the time to visit our website. This is constantly being updated with new products every day so please keep checking back for new item listings.
.
Ceiling Pipe Clamp Hanger Brackets      Other Pipe Clamp Brackets & Pipe Tidy Clamps
Showing 1–10 of 16 results