Pipe Support Clamps Saddle Clamp Brackets
Pipe Support Clamps Saddle Clamp Brackets
Pipe support clamps saddle clamp brackets available from BPC Engineering these quality British made clamps come with stainless steel fixings. We also produce these clamps in C101 copper and 316L stainless steel.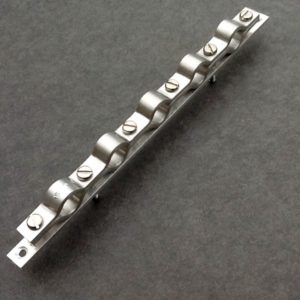 Pipe support clamps cable tray cable clamps Multi Inline Tube Clamps offers the means of securing many cable, fluid line and pipes in place. The advantage of using reusable split clamps allows you to install the cables pipes & conduits neatly and they can also be disassembled quickly to facilitate replacing one or more lines. These cable saddle support clamp brackets are totally reusable and shake proof, available from 15mm port diameter upto 25mm.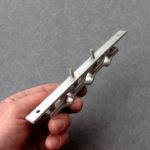 Please note the backing plate in the photo is optional when installing. You can fix this clamp directly to any surface by using the holes provided for the backing plate screws. The hole dimensions are 5mm (M5).
BPC Engineering have been established for many years with a large satisfied customer base, care is taken to ensure our customers get what they are looking for. If you do not see the item listed on this website please contact us.
Dispatch & Worldwide Postage
All items are dispatched within one working day, all free post UK. People outside of the UK please contact for shipping details before you place your order. BPC Engineering manufacturers of pipe clamps and bracket. We also stock other types tube clamp brackets all hand made. Visit our BPC SHOP.
Refunds & Returns
If you are not entirely satisfied with your purchase simply send the product/products back and I will issue you a full refund. (buyer pays return postage costs).
Showing all 16 results