Copper Pipe Clamps Copper Brackets Copper Saddles
Copper Pipe Clamps Copper Brackets Copper Saddles
Copper pipe clamps copper brackets copper saddles available from BPC Engineering Warwickshire. Thank you for taking the time to visit our website. Here you will find a large range of quality hand made copper products for home DIY and industry. The items listed here are standard stock, however if you would like us to custom make a specific item for you please contact us.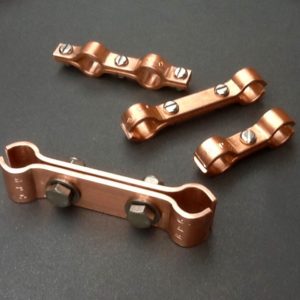 The Copper We Use (C101 Grade)
The copper we use to make our products is C101 grade. This type of copper is 99.9% pure and used in many engineering applications.
---
Stainless Steel Pipe Clamps
We also stock stainless steel pipe clamps and saddle clamp brackets. We use 316L grade stainless steel to produce our clamps. We can also custom make stainless steel clamps and brackets to your specifications.
---
Our Products
We manufacture pipe/cable clamps in stainless steel, aluminium and copper. you can view these at the BPC online store.
Postage & Shipping Worldwide
Customers outside the UK could you please contact us first before you place your order for shipping cost to your country.
Payments & Returns
This website is linked with PayPal, PayPal payments are preferred however if you would like to pay via BACS please contact us for payment details. If you are not entirely happy with your purchase please return the goods and we will refund you. Buyer pays return postage.
Showing all 6 results