Dowty Seal Washers Dowty Oil Sealing Washers Oil Seals Dowty Seals
Dowty Seal Washers
Dowty Seal Washers also known as bonded seals available in many sizes please see our new listing, if you need more information on any of our products please contact me I may be able to help you. Contact Us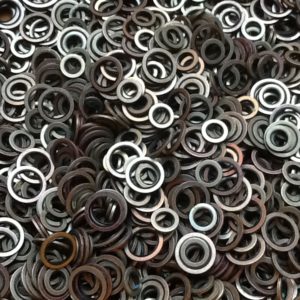 Bonded Seals are also known as Dowty Seals Washers or Dowty Bonded Washers. They are high pressure seals used in the Mechanical, Hydraulic and Pneumatic sectors.
Bonded Seals were originally designed to replace copper type washers used in high-pressure systems. They consist of a metal washer and an elastomeric ring bonded inside the diameter. The metal washer prevents over-compression and limits deformation of the elastomeric ring.
Dowty Seal Washers CHARACTERISTICS
• Ideal Pressure Gasketing
• Reliable sealing at high & low pressure
• High & low temperature capability
• Reduced bolt torque with no loss of tightening loads
• Metal ring prevents rubber compression
---
Payments & Order Information
When making a purchase from this website simply select the item you want, check the quantity then click the add to cart button. Proceed to the checkout where you will be given three options on how to pay . Direct bank transfer, payment by cheque or payment via PayPal. Please make sure the delivery address is correct to enable us to process your order smoothly. Customers outside the UK please contact us for shipping cost to your country before you place your order.
---
BPC Engineering also have a large stock of rubber O rings in stock in imperial and metric sizes.
---
You can now search for the product your looking for by using my new search bar, simply type in what your looking for and hit search.
Showing all 15 results