Dowty Seal Washers Dowty Oil Sealing Washers Oil Seals Dowty Seals
Dowty Seal Washers
Dowty Seal Washers also known as bonded seals available in many sizes please see our new listing, if you need more information on any of our products please contact me I may be able to help you. Contact Us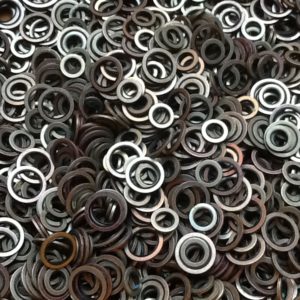 Bonded Seals are also known as Dowty Seals Washers or Dowty Bonded Washers. They are high pressure seals used in the Mechanical, Hydraulic and Pneumatic sectors.
Bonded Seals were originally designed to replace copper type washers used in high-pressure systems. They consist of a metal washer and an elastomeric ring bonded inside the diameter. The metal washer prevents over-compression and limits deformation of the elastomeric ring.
Dowty Seal Washers CHARACTERISTICS
• Ideal Pressure Gasketing
• Reliable sealing at high & low pressure
• High & low temperature capability
• Reduced bolt torque with no loss of tightening loads
• Metal ring prevents rubber compression
If you would be interested in purchasing a large number of these Dowty Oil Seal Washers please let me know and I will adjust the price for a large number quantity. Outside of the UK can you please contact me info@britishpipeclamps.co.uk before you place your order and I can let you know what the shipping cost will be to your country.
All orders received will be dispatched (FREE POST UK ONLY) within one working day with the exception of the pipe clamps as I make them to order. This is a PayPal secure website, PayPal payments are preferred however if you are paying by cheque I will allow time for the cheque to clear before I dispatch the order.
Thank you for taking the time to visit my website, below is a small list of some of the items I have recently added to the website, this website is constantly being updated with new products every day so please keep checking back for new item listings. I also have a large stock of rubber O rings in stock LINK
You can now search for the product your looking for by using my new search bar, simply type in what your looking for and hit search.
Whitworth BSW, BSF, UNC, UNF, BA hard to find vintage size nuts and bolts, washers, Gasket Material, Fiber Glass Webbing Tape, camloc fasteners, Bonded Seals, Toggle Switches, Rubber Cord, Circlips, rubber O rings, Leather Washers, Canvas Material, Carbon Braided Packing-Graphite, Heavy Duty Strap Webbing, Engineers Dowel Pins Grooved, Slotted Spring Pins, compression Springs, Rubber Bellows, Braided Rubber Straps and more..
Showing 1–10 of 15 results