Advertising Banner Clamps Pole Brackets
Advertising Banner Clamps Pole Brackets
Advertising banner clamps pole brackets for all types of advertising, if you are looking to advertise your business from bicycles or tube framework you have come to the right place. We can also custom make banner clamp brackets to your specifications. Contact us with your measurements.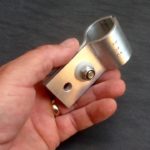 Clamp your advertising banner to your framework and further advertise your business. Our advertising banner brackets are perfect for events and exhibitions. These banner brackets are ideal for Store/Shop openings, Sports events, Shows, Exhibitions, Concerts, Product launches, Promotions, Product Sampling.
All of our advertising banner fixing brackets come with stainless steel fixing and shake proof nyloc nuts. These banner brackets will not rust as they are made from heavy duty aluminium. ( stainless fixings) Many sizes yet to be listed, if you have any questions on any of the items listed on our website please do not hesitate to contact us.
Showing the single result