Description
UNC Full Nuts 1″
UNC Full Nuts 1″
£8.20 FREE POST UK
Sold in packs of 2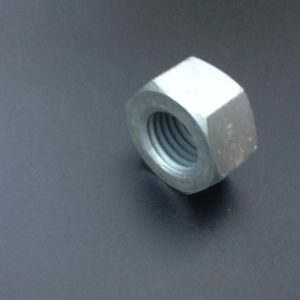 Customers outside of the UK could you please contact me before you place your order so that I can let you know what the shipping charge would be to your country. info@britishpipeclamps.co.uk
Any questions about this item or any item listed on my website please contact me I would be happy to help.
Postage
All orders received will be dispatched (FREE POST UK ONLY) within one working day with the exception of the pipe clamps as I make them to order. If you are paying by cheque I will allow time for the cheque to clear before I dispatch the order. Can you please make sure I have the correct delivery address and post code so that I can dispatch your order quickly and without delay.
Thank you for taking the time to visit my website. Below is a small list of some of the items I have recently added to the website. This website is constantly being updated with new products every day so please keep checking back for new item listings. You can now search for the product your looking for by using my new search bar simply type in what your looking for and hit search.
All of the pipe clamps and cable tray brackets are handmade by myself so please allow a little longer for dispatch. If you would like a custom made clamp please contact me with the sizes you require. My pipe clamps are made to a high standard. All of the materials I use are sourced from local suppliers with British standards quality control.
I have a large stock of gasket materials on offer, NOVUS, Armstrong, GUAMOTOR, KLINGERSIL, interface and more. If you require larger size sheets than the ones listed please contact me. All of the gasket products are ideal for steam, water, oils and chemicals. From gasket packs to single sheets please check this category and see what would be best for your application.
At A Glance Products
Whitworth BSW, BSF, UNC, UNF, BA hard to find vintage size nuts and bolts. Armstrong Gasket Material TS9016, Felt Washers, Hose Clips Pipe Clips, Transducers, washers, Gasket Material, Fiber Glass Webbing Tape, camloc fasteners, Bonded Seals, 240 Volt Red Indicator Lights, Hellermann Expanding Cable Sleeves, Transducers, Toggle Switches, Hose Clips, Flexible Nylon Tube 3/16″ X 107 white, Rubber Cord, Circlips, Nylon Air Hose Nylon Coiled pipe, rubber O rings, Graphite Gasket Material, Leather Washers, White Nylon Tube Imperial 1/4″ X .170, Felt Washers, Rubber Discs, Brass Rubbing, Bolts, Graphite Blocks, Danfoss Valve PM1-32 With Flanges, Dual Snap Pressure Switches, Hollingsworth & Vose Gasket Material, Dual Snap Pressure Switches, Rubber Discs, Canvas Material, Carbon Braided Packing-Graphite, Heavy Duty Strap Webbing, Engineers Dowel Pins Grooved, Slotted Spring Pins, compression Springs, Rubber Bellows, Braided Rubber Straps and more…
ALL ORDERS ARE DISPATCHED WITHIN ONE WORKING DAY FREE POST UK WITH EXCEPTION TO THE PIPE-CLAMPS AS I MAKE THEM TO ORDER.
UNC Full Nuts