Description
Advertising Banner Clamps Pole Brackets 25mm – 30mm Diameter
Advertising banner clamps pole brackets 25mm – 30mm Diameter. These quality British made advertising banner brackets are lightweight and water proof. They are suitable for pole diameter sizes from 25mm upto 30mm. Ideal for many advertising board materials and PVC banners. Designed to be attached to advertising tubed framework and poles. Advertising banners are one of the cheapest and affective ways of advertising your business/event. Our banner brackets are robust simple to install and will make your advertising banner look great. The brackets are reusable making this a good investment for your future advertising campaigns. Simple but very effective. This product is highly popular with advertising companies worldwide. £19.95 pack of four advertising banner brackets free post uk
---
Measurement
25-30mm adjustment port.
38mm banding.
8mm fixing nyloc nut and bolt with nylon washers.
8mm pre drilled banner attachment hole (bungee cord or bolt)
Total length of this clamp is approximately 85mm.
Tab length total 55mm.
Distance from pole to banner fixing hole 35mm.
Rustproof & Reusable
Complete with stainless steel (M8) nut & bolt & nylon washers.
---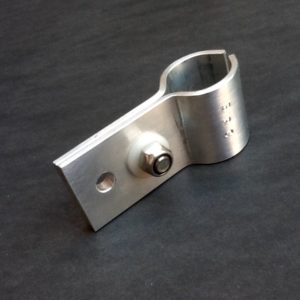 Advertise your products/business using these reusable rust proof advertising banner brackets. The advertising banner brackets are ideal for correx, foamex board, aluminium board and PVC banners and polypropylene corrugated boards. Popular for professional banner tubed frame displays on forecourts, fast food outlets, pubs , in fact anywhere you want to get your marketing message across to passing traffic.
Display Boards, Hoarding boards, outdoor advertising, billboard advertising, Ideal for foamed posters panels, Advertising Signs, display advertising, outdoor media, advertising billboards, advertising panels.
Postage & Payments
These advertising banner brackets are free post uk only, if you are interested in this product and live outside of the UK could you please contact us before you purchase this item and we can give you the postage cost to your country. Payment can be made using this website with PayPal or you can make a bank transfer, please contact us for bank transfer details.
Custom Advertising Brackets
If you would like a custom made bracket please contact us with your details and measurement of the clamp you require and we can supply you with the brackets you want. Additional fixings are available on request.