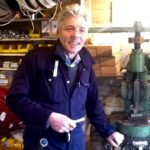 Hi my name is Heath Verrall and I run a small workshop in south Warwickshire where we manufacture smooth profile non-ferrous metal pipe clamps. We use local suppliers for all of our materials to produce our Products. We have been satisfying the needs of our clients supplying quality multi tube/pipe clamping system to construction and process industries. We are fully committed to providing a high level of service and support backed up with increasing stock levels to meet your requirements.
As the restoration of stationary engines and vintage motorcycles are some of the hobbies I enjoy, I've included a miscellaneous category on this site with many items listed. I know how hard it can be to find the old sized nuts and bolts needed such as BSF Whitworth and the odd sized piping. Please take your time to browse this website. I also have a large stock of old imperial size nuts, bolts, washers, Circlips and more.
---
Presswork Services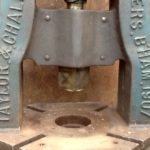 BPC Engineering offer subcontract presswork services for small batch production. We can work with client press tooling or we can design and build tooling to your specifications to produce the components you require. Our workshop is equipped with several metal presses capable of producing upto 8 – 10 tonnes of pressure.
Metal Parts Assembly Service
As part of our one-stop shop solution BPC Engineering offer a complete assembly service, tailored to client requirements. We can handle all aspects of hand and mechanical assembly and any batch sizes. Regardless of the number of assembly stages we can ensure that your components are assembled carefully and accurately. If needed we can incorporate external items, such as rubber washers, grommets. Separate components can be bolted or welded.
Hand Built Assembly
Riveting
Drilling
Tapping
Welding
Fixings Assembly
Call 01789 751389
Contact info@britishpipeclamps.co.uk
---
Mac McGowan Stationary Engines
I would like to thank Mac McGowan of McGowan Engineering for his help and advice, Mac specialises in vintage stationary engines and has done so for many years. He can supply you with many spares from a lister D head gasket to vintage brass oil filler caps and complete engines. He also has a large stock of stationary engine parts and machinery, metal spinning, lathe, pillar drills and machine tools FOR SALE. If you need parts for your stationary engine or some advice on a specific engine you can contact Mac McGowan 01527 893358
"Cheers Mac"