BPC Home & Shop
Non-Ferrous Metal Pressings BPC Engineering
Non-ferrous metal pressings. BPC Engineering non-ferrous metal pressings is an independent company specialising in the design and production of multi inline pipe support clamping systems. We offer you a wide range of quality smooth profile non-welded pipe and cable saddle clamps for industrial and home improvement installations. All of our products are made from non-ferrous metals. Non-Ferrous metals are resistant to corrosion. Not magnetic and contain no iron.
Copper C101 Grade
Stainless Steel 316L Grade
Brass
Aluminium
Multi Inline Saddle Clamps
This new design for pipe and cable clamping allows you to secure many lines with a single clamp. Multi inline clamps are reusable and available in many different sizes with multiple ports. Used when pipes and cables require a secure fit to restrict all movement. Can be wall mounted or installed direct to machinery. Ideal for spacing pipes and cables neatly and securely. Available in brass stainless steel copper and aluminium.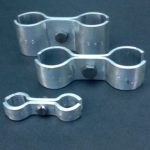 Bespoke Clamps
BPC Engineering will custom make brackets and pipe saddle clamps to your specifications. We can work from your diagrams and produce the right clamp for your application. We have many years experience with the design and fabrication of all varieties of pipe support clamping brackets.
Stainless Steel Pipe Clamps
Stainless steel pipe clamps made from 316L grade stainless steel used for marine applications. Our range of stainless pipe saddle clamps are also available with many different sized ports. Strong heavy duty stainless steel brackets with stainless steel fixings.
---
Copper Pipe Clamps
Copper pipe clamps made from C101 grade copper. This type of copper is 99.9% pure. C101 copper is commonly used in a wide variety of engineering applications. This alloy is normally produced as HDHC (hard drawn, high conductivity) and offers high ductility and impact strength which makes it a versatile and useful material. With high thermal conductivity C101 is a popular choice for all types of electrical components and conductors.
Metal Presswork Service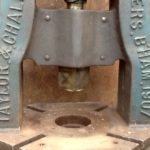 Although we specialise in manufacturing stainless steel aluminium and copper pipe clamps. BPC Engineering offer a subcontract presswork service for small batch production. Small parts press work drilling tapping and assembly. We can work with client press tooling or we can design and build tooling to your specifications to produce the components you require. We have a upto date workshop fully equipped with tooling and presses. Contact us